Personal, Social, Health and Citizenship Education
PSHCE (Personal, Social, Health and Citizenship Education) is not a National Curriculum subject, but we believe that is has an essential role in the education of our pupils. Our PSHCE curriculum has been recently redesigned into a whole-school approach, with themes covered in an age-appropriate way simultaneously across the school, enabling us to plan assemblies and whole-school activities around it.
Emotionally literate children are happier at school, learning more effectively. They have resilience and treat each other well.
Reason, Resilience and Respect form our 3 Core Values, and we are developing this subject rigorously in order to promote these values to all.
As a school, we use The Wakefield Resilience Framework as part of PSHCE lessons and activities. The purpose of the framework is to reduce risk and to build resilience. In doing so, it aims to improve health, educational and social outcomes for children and young people.
We are passionate about all of our pupils understanding and using resilience within their lives both in school and in their personal lives. We believe that resilience strongly underpins many other aspects of learning and it is vital for our children in order for them to be successful and confident learners.
***Inspiring the future- Wakefield Primary Futures***
In February, our school hosted a Primary Futures event. The Primary Futures team have compiled a database of volunteers from all different occupations. Their database allows schools to connect with the volunteers to come into schools to work alongside children and teachers to raise aspirations within education settings.
For many children of primary age, the link between their classroom learning and their future career isn't always clear. Primary Futures events aim to bridge this gap and open the children's eyes to the possibilities for their futures using the skills taught within primary settings.When children understand this link, they are more able to value their learning, as the links to their future is clearer.
We organised our event alongside other local schools to raise the aspirations of children across the Wakefield area. We also planned the event to challenge gender stereotypes within certain job roles as we believe that every child, regardless of their gender, should have the same high level of hopes and opportunities for their futures.
After the assembly, the volunteers spoke to children from Years 5 & 6 in more depth about their roles. The children had opportunities to ask any further questions that they had about the volunteers. This was a highly beneficial experience for the children as they learnt about a wide range of careers from the people themselves.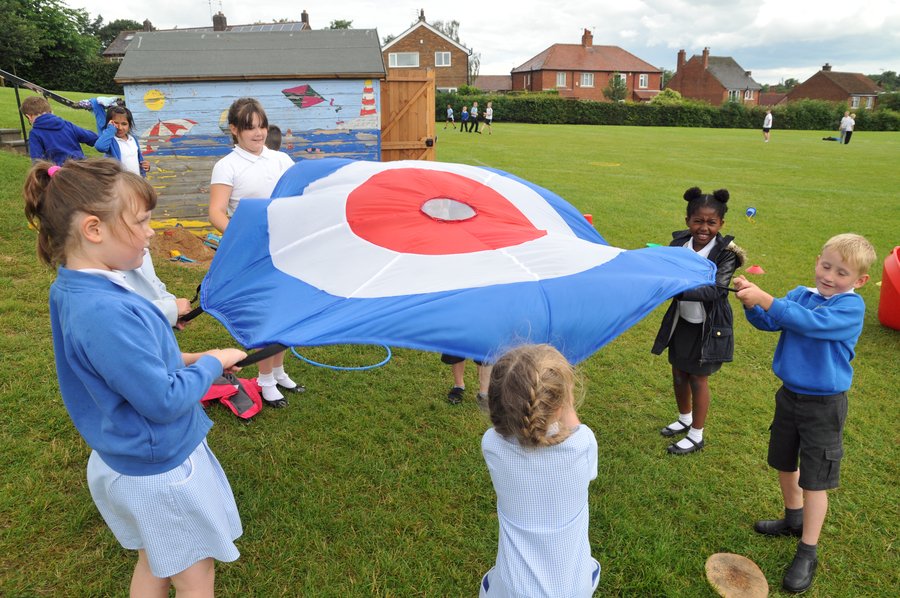 We had 13 volunteers who attended our Primary Futures event from a wide range of occupations:
a nurse

a bank manager

a charity fundraiser

an IT recruitment consultant

two local PCSOs

a local headteacher

a train driver

a building contractor

a first-aid trainer and author

a housing officer for Wakefield Council

two scientists
We started our event with a 'Guess Who' assembly where children had to guess the occupation from the clues given. After we discussed the job role, the children had to match the role to a volunteer in the hall just by looking at them. The children were surprised when the right answers were revealed- a male nurse, a female bank manager and a female building contractor were the jobs which challenged any preconceived ideas of gender specific roles.