Welcome to Year 5 Indigo Class!
Our teacher is Ms Coates. We are supported by Mrs Collier.
Reminders
Monday - P.E.
Tuesday - Swimming.
Wednesday - Spelling test and new spellings will be given.
Friday - MyMaths homework is set to be completed by the following Friday.
Friday - Reading Records are checked.
5 signatures or more will earn you a sticker on your bookmark.
Science Boffins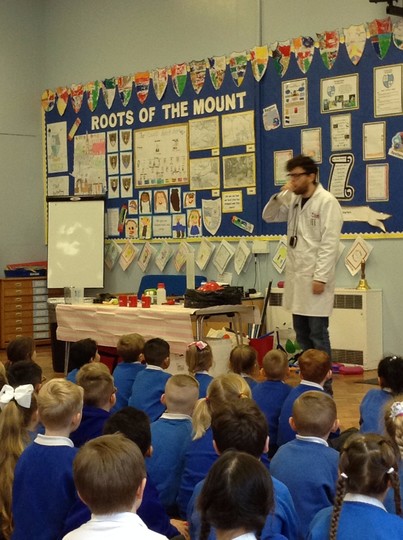 We had an exciting visit from Boffin Harry who led a magical day full of investigations.
The cloud of carbon dioxide we created while sitting in a circle was amazing.
Ms Coates was really pleased with our thank you letters, which we sent to Boffin Harry.
Books we have enjoyed so far include:
Dead Man's Cove by Lauren St John
This exciting thriller had us all on the edge of our seats and caused many a gasp and scream in Indigo Classroom!
Kensuke's Kingdom by Michael Morpurgo

There's A Boy in the Girl's Bathroom by Louis Sachar
Europe
Our main topic in Spring term is Europe.
We have been learning all about the countries which make up Europe. We have enjoyed finding out about their landmarks, rivers, mountains, languages and famous artists.
We have also been learning about Brexit and the European Union.
We are currently reading:
After Tomorrow by Gillian Cross
Summer Term
We are planning to read
Goodnight Mr Tom by Michelle Magorian
Emma Barnes
We had a visit from the author Emma Barnes who shared some of her stories with us and talked about how she came up with her ideas. We really enjoyed making up our own stories about a naughty brother/ sister.
We have been thinking a lot about how to stop bullying and make sure we are all safe and happy in school. We created our own music video and shared it with everyone in assembly. We also created eye-catching posters giving others advice.
Indigo Class have come up with a simple test called 'The POP Test' to see if it is bullying or not
P = Persistent Does the same thing keep happening over and over and over again by the same person/ people?
O = On Purpose Did the person plan to do this and do it on purpose?
P = Power Power could be because there is a group against one person, power because they are older than you or power because they are bigger than you.
If you think all three are happening to you, you need to tell a trusted adult.
Remember:
Treat others how you would like to be treated yourself.