Y1 2017-18
Welcome to Orange Class!
The adults who work in Orange Class are Mrs Sawdon, Mrs Carr, Mrs Aftab, Mrs Ali and Mrs Speight. Mrs Carr teaches Orange Class on Mondays and Tuesdays. Mrs Sawdon is in class Wednesday to Friday.
Routines
Every morning we start the day with Phonics, using 'Read Write Inc' to help us learn to read and write. In Orange Class we have PE on Tuesday afternoons and Thursday mornings. We have our Golden Time on Friday afternoons; this is when we get to choose a fun activity to take part in as a reward for our fantastic behaviour!
Science
Throughout Autumn term we have been learning all about our five senses. We have carried out lots different activities to explore our different senses including tasting lots of different flavours (some nice, some nasty!), smelling mystery pots and investigating when sounds get quieter and louder.
TOPIC
We have been finding out all about castles. We have made some junk model castles and learnt about their features. We have also sketched castles and looked at where in Britain you can find them. We had a special visit from Wakefield Museum who told us all about Sandal castle, and we learnt about a day in the life in a medieval castle. We had fun dressing up and making shields and crowns.
SPRING TERM
William Petty - Time Traveller
We had a very special visitor at the beginning of term - a time traveller from the 1600's! The children had a very special assembly where they met our visitor and then took part in an interesting workshop where they found out all about life in the past and told our visitor all about modern life.
Communications
Our history topic this term has been all about how we communicate with each other. We looked at the modern day post office and even wrote and posted our own very special letters. We then looked at Rowland Hill and how he came up with the idea of everyone paying a set price for letters before they were sent. We discovered what letters were like before the postage stamp was introduced and even made our own letter from the past using homemade ink and clay seals. We are now looking at who invented the telephone and we will be making some string telephones and then finally we will look at how the world wide web and email came about.
Meerkat Mail
We have a very special visitor in class at the moment - Sonny the Meerkat. He came to visit because he got a bit fed up of life in the Kalahari Desert! The children enjoyed going on a hunt around the school to find Sonny and then taking him on a special tour of the school where he met different members of staff, played in the sand, rode a bike and even helped the kitchen by stirring the food. He has been coming home with the children to meet their families. We have all been enjoying reading about Sonny's adventures with you and looking at the photos that the children have sent in. We have written postcards to Sonny's family; fact files about meerkats and thought bubbles to describe how Sonny feels at different parts of the story. The children have loved having Sonny in our classroom and he is here to stay for a while!
World Book Day
Everyone enjoyed our postponed World Book Day! The children had some fantastic costumes - so thank you to parents for providing them. They all enjoyed joining different classes for the day and doing lots of Alice in Wonderland themed activities.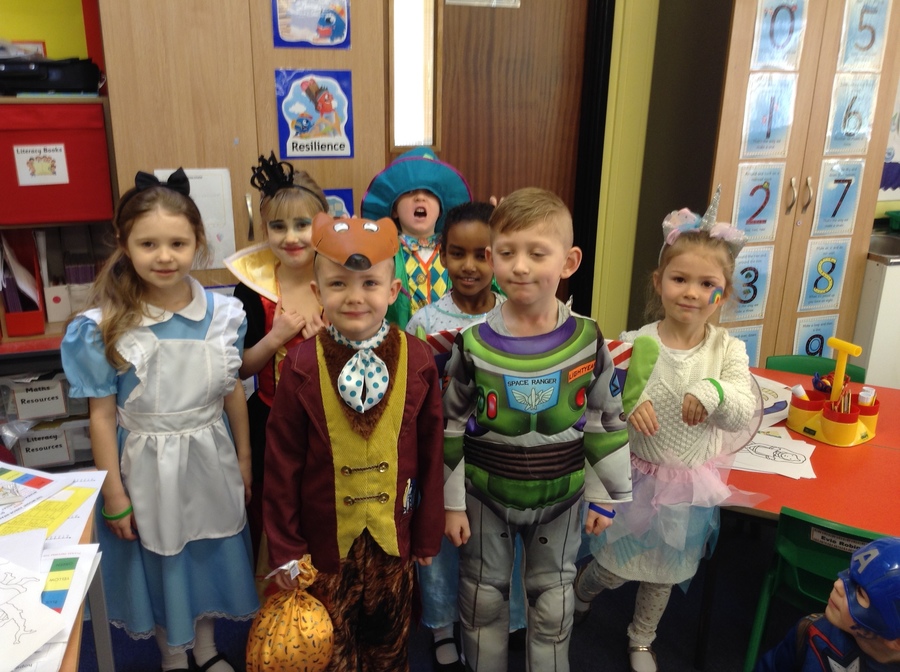 The Tiger Who Came To Tea
Recently, we had a shocking event in Orange Class when a tiger came to visit our classroom and wrecked it! When the children arrived at school the sand tray had been tipped over, there were tiger prints everywhere and even fur. The children investigated with magnifying glasses and by taking pictures of the crime scene. They pieced together the clues and realised that a tiger had been in our classroom and eaten Mrs Carr's biscuits. We are now learning the story of The Tiger Who Came To Tea and then the children will write their own story about a different animal having a tea party. We will also be inviting the tiger to come back to our class for a special tea party!