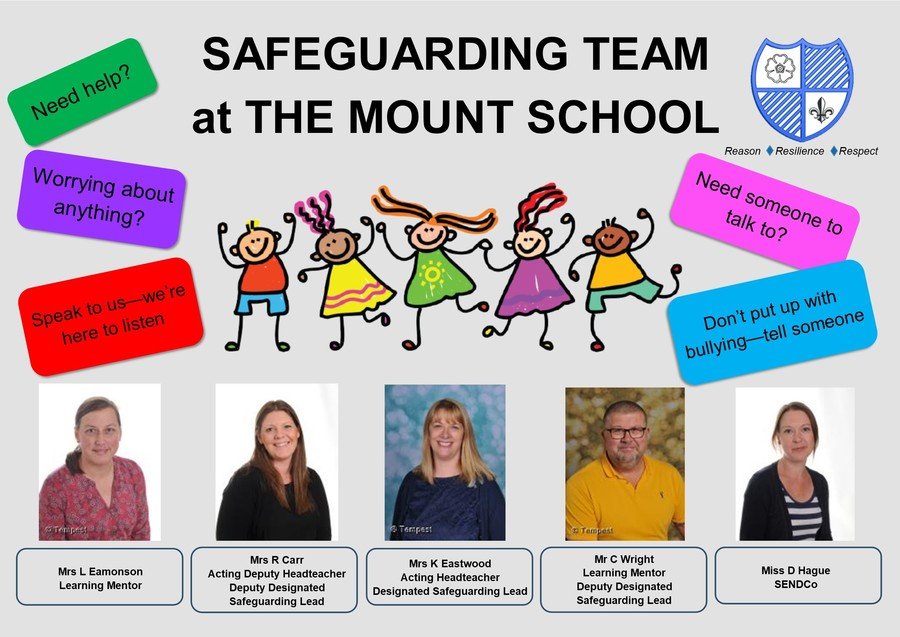 Safeguarding
The safety and wellbeing of all pupils is of paramount importance to us.
Our Designated Safeguarding Lead (DSL) team deals with any concerns about the safety of pupils in our school. The DSLs can be contacted via the school office or in person before or after school. Concerns out of hours can be addressed to attendance@mount.wakefield.sch.uk.
If you have any immediate concerns about a child's safety, please call Social Care Direct on 0345 8503503.
Lead DSL: Mrs K Eastwood
Deputy DSLs: Mrs R Carr, Mr C Wright
School Safeguarding Governor: Mrs S Curley
Click below links to our various Safeguarding information:
Safeguarding Policy
Addendum to Safeguarding Policy regarding COVID-19
Child Friendly Safeguarding Policy

We subscribe to the Wakefield Young People's Safeguarding Charter, which was launched on 17th May 2016. http://wfyouth.co.uk/
Further details about Child Protection, including information about the Wakefield Safeguarding Children Partnership can be found on the Wakefield Council website.
The Parent Info pages on Parent Zone contain a collection of articles, tips, expert advice and resources designed to help parents keep up with what their children are doing on-line, as well as a range of parenting advice articles. Click on the link below for more information:
Parent Guides for e-safety are posted regularly on Class Dojo by Mr Haigh. See 'What Parents Need to Know about Roblox' dated 28th April.
E-Safety
In an ever-changing world, we prepare our children to access the online world safely.
Regular E-safety lessons are taught in all year-groups (age-appropriate) and children take part in E-safety assemblies. The content includes how to deal with strangers online, keeping personal details safe, and what to do about e-bullying.
Pupils and parents sign a Computing User Agreement at the start of each academic year. Parents are encouraged to use the rules at home as well. A copy of this can be found here: Computing User Agreement
The agreement references PEGI. This is the system used to categorise the suitability of games in terms of content. We ask that children do not play games rated above PEGI 3 and 7. It is illegal to sell PEGI 12 and upwards games to underage individuals, and so the rating system provides an excellent and enforceable guide to the suitability of games. More information about PEGI can be found by clicking the link: PEGI Games Categories
Later in the year, our E-Safety week centres around Safer Internet Day. The next Safer Internet Day is on Tuesday 9th February 2021. More information can be found here: https://www.saferinternet.org.uk/safer-internet-day/2021
Links to further information for parent/carers about keeping children safe online, including a guide to social media platforms, how to talk to your child about safety online, and how to set up parent controls are provided below: